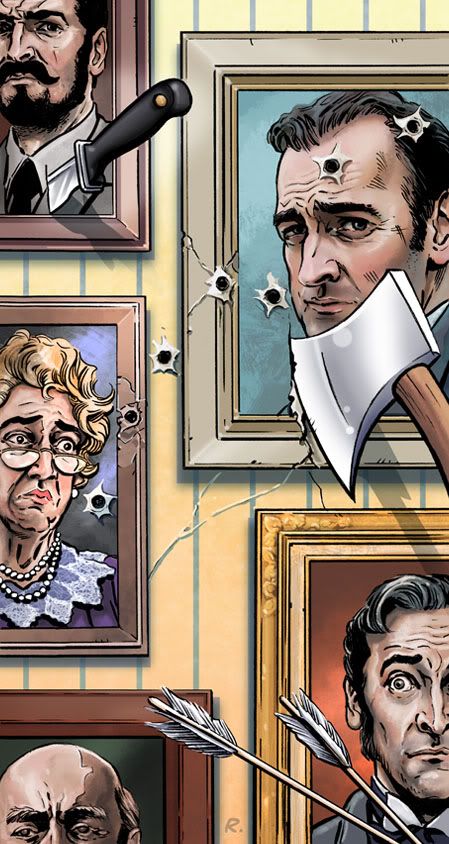 A commission from the Radio Times is always a welcome one and especially when the subject is a favourite. The 1949 Ealing comedy film 'Kind Hearts and Coronets' is one of those films that gets repeated a lot and is especially good viewing on a rainy Sunday afternoon. Louis Mazzini (played by Dennis Price) is distant relative of D'Ascoyne family and he plans to murder his way throughout the family tree to receive what he believes is rightful inheritance. The magical part is that nearly all of the family members he hunts down are superbly played by Alec Guinness, a masterclass in comedic acting.
The brief from the Radio Times was for a radio drama sequel to the original play the film was based on. Here is the supplied information I received:
Kind Hearts And Coronets: Like Father, Like Daughter
Natalie Walter stars as Unity Holland, who is pursuing the Chalfont title, with Alistair McGowan playing all seven members of the Gascoyne family, who are standing in her way, in David Spicer's sequel to the famous Edwardian comedy written by Roy Horniman.
This new radio sequel to a classic comedy takes place some years after the death of the 10th Earl of Chalfont, a man who systematically murdered his family in order to inherit his title. The 20th Century rolls on and even against a backdrop of international conflict and revolution, an Earldom is still to be fought for - by fair means and foul. There are at least eight claimants to the Chalfont title, all of them ruthless. The Gascoyne family is a big one and its sense of entitlement enormous, its appetite for violence impressive and the family resemblance at times uncanny.
This is an entirely new version of the story, and has something to offer both those who know the original and those who come to it for the first time. Alistair McGowan stars as Lady Edith, Henry Gascoyne, Louis Gascoyne, Adalbert Gascoyne, Ughtred Gascoyne, Marmaduke Gascoyne and Ronald Gascoyne, the judge. Further cast includes Simon Greenall, Jane Whittenshaw, Sally Orrock, David Holt and Steve Hodson. Producer/Frank Stirling for Unique Broadcasting Company.
My first thought was to do something based around a family tree graphic but I put that aside based on the size of the illustration, 38mm wide by 71.5mm deep is a quite a small area to work in but not impossible to convey a lot of information and detail. So I headed down a different route but kept the 'family' theme by showing a section of a wall with family portraits, all of course portrayed by Alistair McGowan*. To add to the murderous side of the story I added in various weapons that might be used to 'bump off' each member. The pencil rough was quickly accepted and the painted final illustration was a lot of fun to work on. Briefed on a Tuesday morning, deadline noon Thursday, printed and in the shops by the following week! I love that the turn around on these jobs is so quick and that the Radio Times is always a delight to work with.
*I decided to do a little homage to the Ealing film and the bottom left portrait is based on one of the eight family members as portrayed by Alec Guinness, it could of course pass for a bald Alistair McGowan :)